Pilgrimwitnesses The CD Crossing Over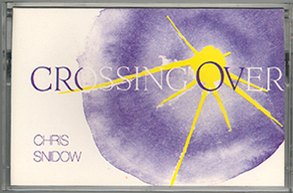 'CROSSING OVER' CD
Acacia, HEARTSONG REVIEW, Spring/Summer 1992
Zealously conceived and performed, these excellent compositions and driving energetic performances are luminous with virile energy and true beauty. Rock is a definite influence here, with excellent synth effects and hot electric guitar. Two vocal cuts, Keeper of the Flame and Crossing Over have fine spiritual lyrics… Creative, inspired, this is a highly listenable album with no weak cuts and consistently crisp, vital performances exuding energy that is enticing, beckoning back for more and more listenings. Outstanding rapport with the synth and knowledge of how to milk it for richness of sound that remains always musical and balanced. Absolutely wonderful for driving, waking up, partying, playing.
AFTERTOUCH, 1992
Chris Snidow was born in 1948 in Virginia although he was raised in Texas. He lived in California for a while and spent a year in Europe. During the late 1960's and the '70s, Chris performed with several established rock, blues, and jazz artists, primarily as drummer and lead guitarist, in the USA as well as in Europe. Since 1979, Snidow's work has been focused on exploring mood and composition, as interpreted through electric keyboards and synthesizers. Chris now lives in Dallas, focuses on composition, and sporadically performs live.
"Snidow's music is a dynamic balance of electronic, rock, and space music, with full blooded themes and sonic variety. (Reminds me of /Chris Speeris's music). The cover art is fine for something more angelic, but this album has too much vitality to be held to the artwork."–Carol Wright. NAPRA Trade Journal.
I sit here at my computer screen, trying to find the words to do justice to this LP. I find myself lost simply because I don't want to say something which will turn you off. I've been told that sometimes people think what I write is just a bunch of hype and the LPs can't be as good as I say they are, but generally I hear from these individuals again at some time in the future and they admit that I was right on track. This is one of those LPs. I just can't say enough about it, so I won't. I will tell you though that I love it…
Instrumentation: Roland D-50, RD 300S, Ensoniq ESQ-1, Ensoniq Mirage, Alesis Hr-16, Midiverb, Takamine acoustic guitar, Electra Westfare guitar. Vocals: Eric Tagg.
CROSSING OVER—is death to life, life to death. A spiritual awakening. Musically it is a crossing over or merging of different styles.
VEIL OF GLASS—Transparent yet untouchable beauty.
SPECIAL FROG—composed in Jerusalem for a very special person of the French persuasion. The song comes complete with the tongue-in-cheek prejudicial title.
THE EVER PRESENT MEANDERING FUTURE—A slow, powerful piece and just when you think you're there it all kind of "meanders"­a time warp.
KEEPER OF THE FLAME—The age old battle between good and evil. A trip to the past.
YENNI YANG—The contrasts of Yen and Yang, or if you knew her, Yenni Yang.
CROSSING OVER—A description of the spiritual search toward the light.
TIME HEALS SLOWLY—A reflection of the belief that time heals all, but slowly.
YVAN—Dedicated to a good friend who "crossed over" a few years back.
THE OTHER SIDE—This one is up to you. Which or what other side do you prefer?